MANILA, Philippines — With a campaign lacking details on how the perceived winner in May 9 polls intends to handle the economy, the private sector has shifted into a wait-and-see mode until the former Senator Ferdinand Marcos Jr. lays out his plans and names his economic team.
Investors eagerly await the composition of the next administration's cabinet as they assess the prospects under new leadership, given major challenges such as rising inflation and a mountain of debt for the country's recovery from a pandemic-induced recession.
Michael Ricafort, chief economist at Rizal Commercial Banking Corp., said in a comment that some investors have taken a wait-and-see attitude "out of caution" and awaiting details in the days and weeks ahead.
Economic team
Ricafort said that, in particular, investors wanted to get an idea of ​​the incoming administration's policies for the first 100 days, especially cabinet members.
Among the factors investors see as key to the new president's success is a credible and capable economic team, as seen over the past two decades, the economist said.
ING senior Philippine economist Nicholas Antonio Mapa said they hoped the new administration would shed some light on its plans to grow the economy while dealing with inflationary pressures after two years of the COVID pandemic. -19.
Other factors are policies that promote ESG or environment, society and governance, to help attract more investment; efforts to strengthen institutions and the rule of law; a more effective response to the COVID-19 pandemic and the pursuit of economic and fiscal reforms.
Ricafort said investors are looking at whether the new administration will focus on post-pandemic economic stimulus, such as reopening the economy and creating more jobs.
On the home front, the key to success is whether the new president will foster greater inclusion and unity among politicians, given that strong support from lawmakers is needed to pass more reform measures that require legislation.
Transition talks
On Tuesday, Finance Secretary Carlos Dominguez III said transition talks between the outgoing Duterte and incoming Marcos Jr. administrations had begun, just a day after presidential elections.
"The briefing has begun," said Dominguez, President Duterte's chief economic director. "So far so good," he replied when asked how the talks were progressing.
Dominguez declined to identify who made up the economic team of Marcos Jr., who will assume the presidency on July 1 once declared the winner. "Let's wait for their disclosure," added Dominguez.
The Philippines Chamber of Commerce and Industry (PCCI), the country's largest business group, also said on Tuesday that the people should give the next administration time to develop and share its plans.
"The President-elect (Marcos Jr.) will face the same financial challenges due to the prolonged COVID-19 pandemic and lately geopolitical storm in Ukraine similar to other countries [particularly in relation to] debt and inflation problems," said PCCI President George Barcelon.
But we know better [that] our macroeconomic fundamentals are intact [along with] the economic reforms of President Duterte's administration. Congratulations to Secretary of Finance Sonny Dominguez, who provided a good starting point for [the] new administration," added Barcelon, who described the election as "generally peaceful and credible."
The Joint Foreign Chambers of the Philippines (JFC) said in a statement on Tuesday that it would work with the new government to keep the country's economic recovery on track.
The JFC, which has more than 3,000 member companies, is a coalition of US, Australian New Zealand, Canadian, European, Japanese and Korean chambers and regional headquarters.
Stocks down, treasury bill rates up
"As chambers of commerce, we hope to continue to work closely with government officials at all levels across the country for the post-pandemic recovery," they said.
The performance of local financial markets in the aftermath of the elections has already indicated the economic challenges ahead.
Interest rates sought by local creditors on short-term government bonds rose on Tuesday as the domestic debt market remained jittery about high inflation, which as of Monday, think tank Moody's said Analytics would be a "headache" for the next administration.
The Treasury Board (BTr) was only able to borrow 5 billion pesos out of the 15 billion pesos it wanted to obtain from short-term bonds.
"April's surge in inflation continues to dampen market sentiment," National Treasurer Rosalia de Leon told reporters after the Treasury's first fundraising round after the May 9 election.
Inflation
Last month, headline inflation – or the rate of increase in prices for commodities and services – hit a 40-month high of 4.9% above the 2-4% target range of manageable price hikes from Bangko Sentral ng Pilipinas – due to high costs. food and fuel.
At Tuesday's auction, only the shortest 91-day bills were fully allotted with 5 billion pesos in borrowings.
The average rate applied on 91-day bills rose to 1.531% on Tuesday, from 1.272% last week.
The Treasury rejected the offers for the two longer maturities because accepting them would have pushed their average rates above 2%.
US financial services giant JP Morgan also dropped the Philippines to the bottom of an investment pile made up of its Southeast Asian peers, signaling growing risks from high public debt and downside factors. runaway inflation that he said would slow economic growth and hurt corporate profits.
The Philippines thus ranked behind Vietnam, Singapore, Thailand and Malaysia in JP Morgan's "new order of preference in Asean".
In a May 9 report, JP Morgan also advised investors to reduce exposure to local equities, given its intention to "downgrade the Philippines to an underweight."
When the market reopened on May 10 after the election, the benchmark Philippine Stock Exchange Index (PSEi) fell 3.14% before paring losses to end the session down 0.58%.
The decline wiped out about 142 billion pesos in market value on Tuesday, according to PES data.
It came amid a selloff in regional and US stocks as investors worried about rising economic recession risks as central banks around the world scrambled to quell searing inflation. .
—WITH REPORTS BY BEN O. DE VERA AND MIGUEL R. CAMUS
RELATED STORIES
Marcos and Duterte lead for landslide victory
Bongbong Marcos surpasses Duterte's vote count in 2016 election
JP Morgan drops PH to bottom of ASEAN investment preference list after May 9 polls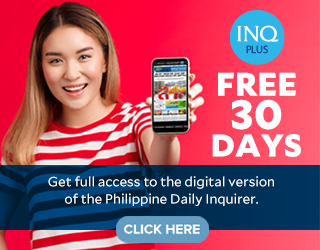 Read more
Subscribe to INQUIRER PLUS to access The Philippine Daily Inquirer and over 70 titles, share up to 5 gadgets, listen to the news, download as early as 4am and share articles on social media. Call 896 6000.